I got my Christmas Cards sent off, and so I wanted to share. I am VERY pleased with how they turned out!
Love spreading Christmas cheer. (And the dog is pretty cute, too) :)
I'll be linking up with
Faith's Christmas Card Carousel
on December 15th as well. And you should too. It will be fun!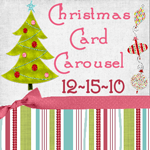 But being the impatient person I am, just couldn't wait to show y'all. Ha!!
This truly is the most wonderful time of the year!!